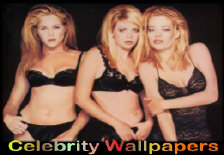 Welcome to the celebrity wallpapers page, this page contains high resolution wallpapers of top female celebrities in the world in most beautiful of their postures. Currently these are available in 800X600 only, I will add them in other resolutions very soon.
If you have some good quality wallpapers and want to share them with others, please send them to me and I'll post them here.
Tip: Keep checking this page and I promise your desktop will keep shining with newer beauties.
Or if you have something to say: